Rolf Arnoldi
I was born and raised in a vibrant Harbour Town with a thousand-year history in Northern Germany (clue—the Beatles made it famous in the early sixties).
Trade and Commerce opportunities for a young person leaving school were plentiful. Always being interested in engineering I took up an apprenticeship in fine mechanics and optics.
Graduating with honors awarded me a scholarship to go to England, joining a development team working in the laboratory of one of the oldest UK companies. Some 12 years I spent with this company enabled me to install precise optical test equipment in various overseas countries, like Zeiss Germany, US Navy Washington and Chicago, NASA Houston and the European Space Centre French Guiana. One of the most memorable times away was meeting Neil Armstrong and Buzz Aldrin.
After some 13 years in the UK, married with two lovely daughters, it was time for a sea change. The travel bug took us to Australia on a 10 Pound Pom basis. What a good decision it was, arrived here in the early seventies, it was easy to find a job, although I had to adopt a slightly different direction; got into surveying instrumentation, joining a prominent company importing, selling and installing electronic and laser equipment.
My role enabled me to do extensive travel, locally and overseas. It was interesting and challenging of my years in employment, meeting people from all walks of life, engineers, farmers, and lecturers; even had a drink with John Howard after a surveying conference.
Now being retired, I keep in touch with friends, do photography, gardening, walk and socializing.
I really value the friendship of our Probus Club members
Dot Browne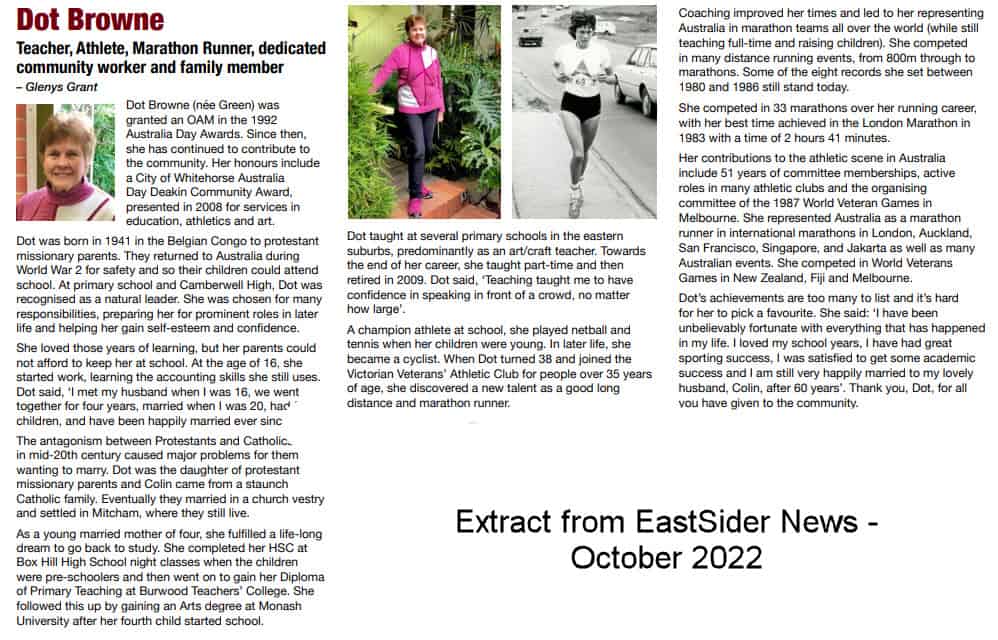 Gerry Burton
I was born in a small textile town called Farnworth, England in 1935.
At the age of 15, I left school to take up an apprenticeship as an auto electrician, but it wasn't what I really wanted to do. I was more interested in radio communications and went to night school to obtain my Radio Amateur License.
At the age of 18, I decided to join the Royal Air Force and was accepted as a fully qualified radio technician and specialized in Ground Radio (i.e., high power transmitters, communications receivers, and radar).
I served overseas in Egypt and Cyprus where I was for a period attached to the Colonial Police to help install a network of radio stations in small village police stations in the Troodos Mountains. After 4 years I left the service to take up employment with De-Havilland as an electronics technician, working on guided weapons. It was at that time I met the love of my life and after about a year we were married. I then went to work for A.E.I. in Trafford Park, Manchester and worked on tank turret and gun control systems.
On the 27th of September 1963, just one day before my wife's 23rd birthday we set sail for Australia as £10 Poms and arrived in Brisbane in late November. Within a few days I was employed at Archerfield Airfield as an aircraft electrician working on light aircraft. That was the beginning of our life in Australia 59 years ago.
Apart from spending 4 years during the late 70's early 80's in England, where I worked for British Aero Space as an engineer on guided weapons, I have lived and worked in all the Eastern states including 13 years in Canberra and the last 43 years in Melbourne. I founded and managed the Instrument Repair and Calibration Laboratory for N.E.C. in Mulgrave before retiring.
I have 3 children and 4 grandchildren who all live in Melbourne.
I have been a member of Toastmasters, Rotary, Lions, and a member of this club for 13 years.

Lois Cheevers
Lois has danced all her life. Not ballet, even though it was her greatest love because she just wanted to be immediately on points as a child and that doesn't happen for many years!!
Instead, she became an accomplished professional dancer teaching Ballroom, New Vogue & Latin etc. She taught professionals for diplomas & judged championships at various studios and events around Melbourne and Victoria.
The one time she judged dancing in Tasmania, a newsreel made a splash about her being 'from The Mainland'!! She and Terry were exhibition dancers. Lois danced seven days a week all her adult life and now still teaches one night a week. "Disappointingly, Covid has disrupted dance as with all the Arts", Lois commented.
She loved to attend ballets and did see Dame Margo Fontaine and Rudolph Nureyev dance in Melbourne many years ago.
There are others among you who no doubt also enjoy, or have enjoyed, dance as a pastime twirling around dance halls etc.
[I shared this anecdote with Lois & thought you might enjoy it too. When I lived in London in the 70s, I was working through an agency – not teaching. The stint was at British Hotels for a week where I found myself working next to a young out-of-work ballet dancer. She invited me to go to the ballet at Covent Garden … on the cheap, in fact for 50p if we sat on the steps. Not just any steps but the ones directly opposite Dame Margo who always went to watch Nureyev dance. So, I was able to watch him dance for 50p!!!! Afterwards, we moved outside to the stage door because my now ballerina friend wanted to catch a couple of her friends as they emerged…. and yes, Nureyev was with them. So, we all hung around chatting and then I realized I was actually leaning against his car when he was about to leave. He was easy to chat to – I guess as easy as he made his dancing appear – it was an absolutely stunning performance.]

Ken and Beryl Pakes